Crane design
Cases of Crane Design
AkerH6a - Gantry Crane
The Gantry Crane is designed as a trolley with a jib running on top of two main girders. Those main girders are connected to two legs with drive assemblies which allows the crane to move sidesway. The jib can pick up pipes from a horizontal position between the two main girders and bring them in to a vertical position.
The design of several Gantry Crane of this type was checked: first evaluating the possible loading scenarios and finding the governing situations. The main beam model of the crane was checked in several positions.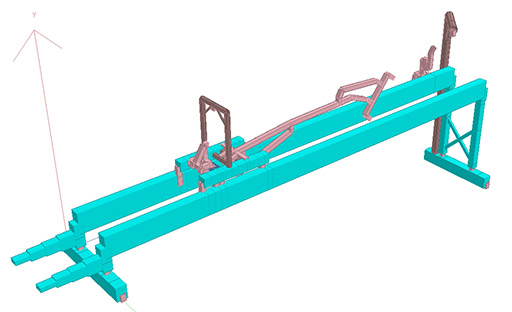 Also the main SWL (safe working load) was applied in the most realistic way. The sling arrangement was taken into account.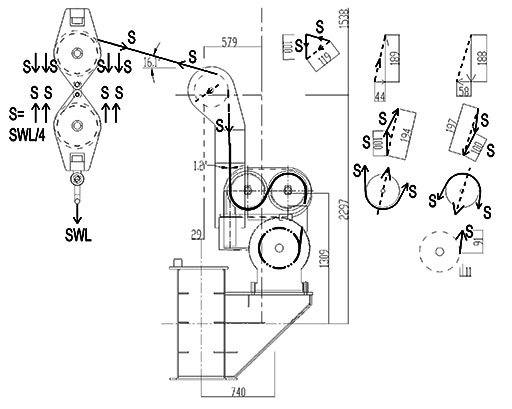 All details have been checked, and some found to be critical. These have been reinforced and have found a possible solution together with the project designer. Achieving a Crane design that has been successfully copied for several projects afterwards.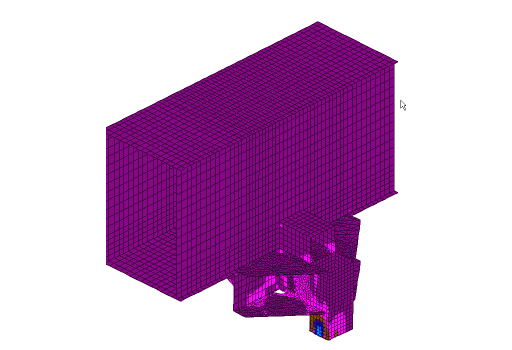 Parking bolt detail on carriage.
TMT1 – Riser Gantry Crane
The RGC is a gantry type crane with double HEB profile main beam with I-diagonals.
There is one "A" shaped frame constructed pinned leg with diagonals and one fixed leg as the main beam is directly connected to the carriage. The main beam is connected to the A-leg by a pinned connection, allowing the crane to accept some deck deflection.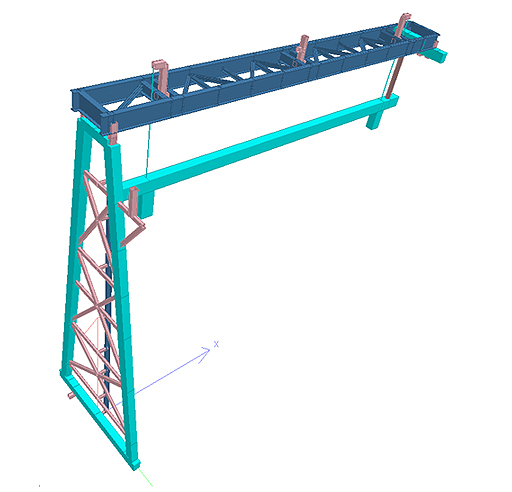 This lattice structure was checked in different positions/height of yokebeam&riser. The real challenge at this specific Crane design was to find a correct solution for transporting it in one piece – as the assembly due to cabling was a time consuming process.
The high loading in transport condition resulted in serious temporary support structure together with prestressed lashing. Max loading was 0.64g horizontal accelerations (64% of selfweight in any horiz direction) and windload of 64m/s (230km/h or 140mph).
Antilift bracket
The high uplift reaction forces required a new, stronger design. New bolts have been added to previous design close to the axis of the rail. Bending moments have been reduced to zero in this part, resulting in significant uplift capacity.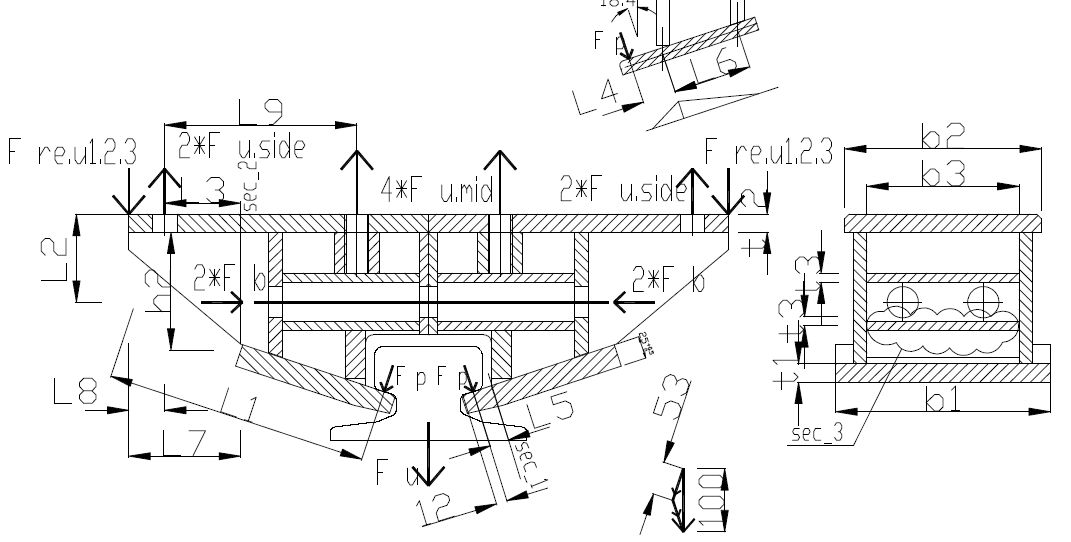 Top hinge connection
, - being an important detail -, has been checked at every section for max and fatigue forces as well.
Guide rail for Yoke


This guide rail is designed to keep the yokebeam (lifting loads) in track, the rail is fixed to the "A"-leg in middle, vertically. The original section was strong enough for global loads, that is bending moment on whole section between supports. But we have found critical local wheel forces. As section was weak for flange bending, a simple solution of adding extra channel sections on both side of beam solved the case. Channel section flanges are in line with the wheels, therefore local bending is not a problem anymore.
West Alpha – Gantry Crane
The crane is a hydraulically operated gantry type crane, which travels on rails in the fwd/aft direction. It is designed to handle tubulars from the storage area on the pipedeck to the horizontal pipehandling system which conveys tubulars onto the drillfloor.
The main beam is rigidly fixed to an A-frame leg in one end. The other end is pinned to an A-leg. Each leg is resting on a crane drive assembly (carriage). The crane drive assembly includes wheels, side rollers, rack pinion drive and anti-lift arrangements.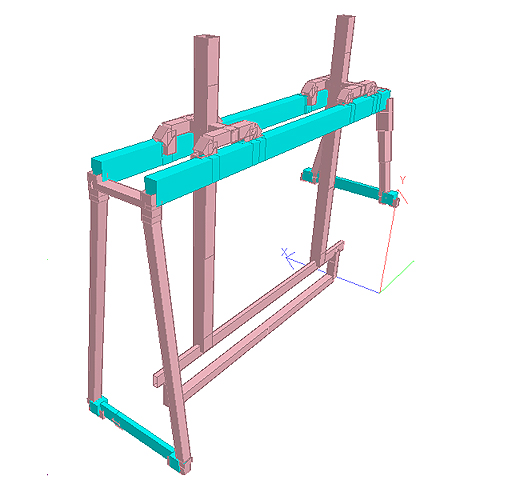 As this Crane design was both used with a yokebeam and without it (only using the trolleys), there were a large number of possible loading geometries.
Telescope box

The two trolleys, -operated on this crane-, have been designed with telescope boxes for lifting purposes. Connection between each part is made with sliding pads. A detailed check was made in order to see the local peak stresses in the sliding pad area. Corner welds have been reinforced according to our advise.
Rail clip
The rail, -under this crane-, needed special fixing to deck (bolts were not satisfactory). Therefore a unique railclip geometry has been designed, based on the check of several sections and welds.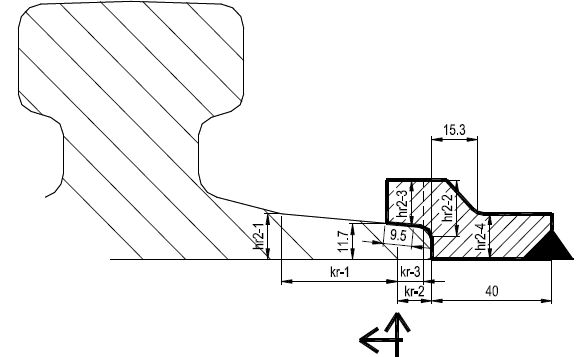 Our experience on crane design
Crane Design Details
Projects / References
We have been involved in Oil Industry Projects, and have designed Cranes for rough deepsea conditions. Therefore we are perfectly capable of designing Cranes for ordinary onshore conditions, including special loadings as – earthquake, which is very similar to offshore rig motion loading.
more ...
List of main Crane projects:
| | |
| --- | --- |
| West E Drill | Gantry Crane |
| West Eminence | Gantry Crane |
| Seadrill 10 | Gantry Crane |
| Sevan | Gantry Crane |
| TMT1 | Riser Crane |
| AkerH6a | Gantry Crane |
| SNORRE B | Gantry Crane |
| Frigstad | Riser Handling Crane |
| West Alpha | Gantry Crane |
| Frigstad | Riser Handling Crane |